The phone rang.  An unknown caller.
"We'd like to participate in the Peking to Paris Motor Challenge 100th anniversary run.  Could you prepare our car?"
The infamous P2P!  An endurance rally of 13,500 km, nine countries, rough and often dangerous terrain, the Gobi desert!  Most people can picture in their mind the sort of robust vehicle they would use to tackle this arduous event.  "The car?  Oh, a 1934 Lagonda T7.  She's called Louisa, been in the family since 1936, only driven on the road before, but we thought we'd give this rally a go…"
Now, whilst this request was made to experienced race car preparers, it was somewhat of a departure from the original business plan.  But, with a passion for cars and with a reputation for building highly engineered and reliable vehicles, perhaps diversifying into vintageant rally preparation was actually a natural progression for Simon and Trevor …
When most people think of vintage and classic cars, they imagine them as a 'weekend' car, taken out on high days and holidays for genteel countryside runs and probably ending up at a local hostelry to partake in a Sunday roast; or meeting up with like minded folks at a car club or show.  In other words, a quiet life for these old gals.  Not necessarily so.  A growing area of popularity is vintageant rallying.  These events can take place anywhere in the world, over several weeks duration and cars participating in these endurance rallies are truly put through their paces.  Age?  Well, that's just a number!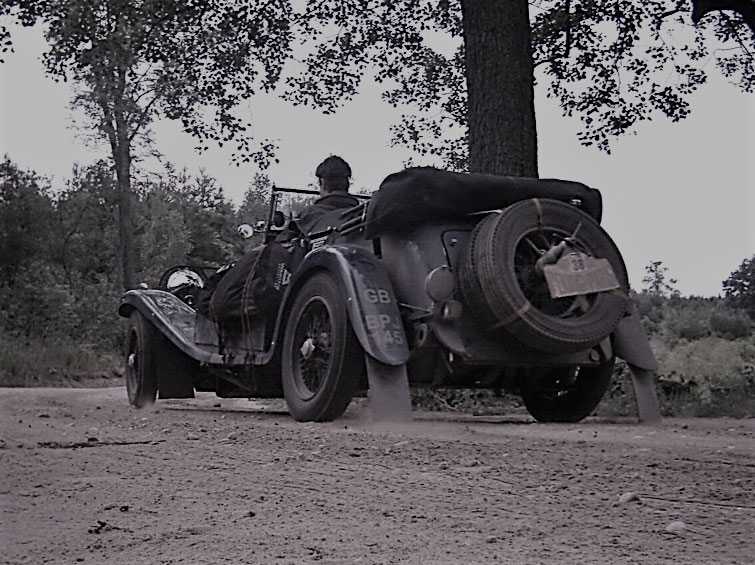 There are specialist logistics companies offering these adventures of a lifetime.  Whilst the organisation is taken care of from the moment the cars are shipped to their destination, off-loaded at the port and arrive at the first hotel, together with meals and five star (sometimes even six star) accommodation and interesting stop-offs along the way, it is the driver, navigator and car that have the real hard work to do (with apologies to any of our organiser friends reading this).
To that end, before Louisa even rolled off the ship, she had undergone a two year rebuild programme with us at Scott Automotive to make sure she could handle anything that the rally might throw at her.  This included the development of such 007-esque features as a snorkel attachment for river crossings!  What's not to love about that!
Whilst on the rally and despite all the preparations beforehand, the teams must still undertake daily maintenance and checks.  The geographical terrain and climate, the lack of 'proper' roads (although the pot-holed variety we travel on today are good practice), the quality (or lack of) fuel, the sheer mileage each day, all take their toll.  Are all the drivers/navigators mechanically savvy?  A few, maybe.  But the rest?  Probably not.  And that's why our teams join us for basic training before we bid them "bon voyage".
This training is invaluable in the field when the teams are exhausted, physically and mentally, often arriving back in the dark after long hours on the road (and that's without problems).  This basic hands-on knowledge, not just the theory, allows them confidently to get on with the final jobs of the day.  By inviting our teams into our world, it allows us to gauge their ability, so that when we are providing telephone support, we can help in the best way possible.  If we tell them how to pull something apart and put it back together, will they be able to do so? Or, actually, do we need to simply say, you need to speak to the support crew now.  There are no prizes for doing something yourself and getting in such as pickle that you miss dinner, sleep or even setting off the next morning.  The wagons just keep rollin' …
So why do it?  Well, why not!  If you are lucky enough to own an interesting car and want to see the world in a different way, meet a diverse crowd of people and have something exciting to talk about over that next Sunday roast in the pub with your car club, go right ahead and we'll be right behind you every step of the way.
The successful completion of this arduous event by a 1934 car, following our first foray into rally preparation and support, set us off on a complimentary road to our track based business.  Three years later saw Louisa head out to Peking again, together with our second team in a 1937 Rolls Royce 25/30.  Both once more finished.  Since then we have prepared cars for UK and European rallies, together with long haul events such as the Great South American Challenge, Thunder Dragon and Tiger rallies.  We're preparing now for 2019.
We have plenty of stories to tell, so why not give us a call, come and have a cup of tea and start your adventure?